I told yall that my posts would be all over the place...I just have so many things on my mind and I can't help but to share!

But onto the hot mess that is Mayor Kwame Kilpatrick.....if you're one that keeps up with current events and news I'm sure that you've heard of the infamous "Sex & Text Scandal" surrounding Detroit Mayor, Kwame Kilpatrick.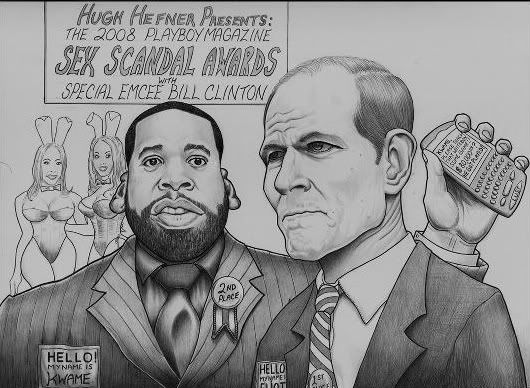 As a resident of the Metro Detroit area, you can not turn on the television without being bombarded by the latest, breaking news in the Kilpatrick trial. Frankly, I'm sick and tired of being sick and tired of hearing about him. He either needs to a.) be put out of office or b.) be a man and step down. While he has brought many jobs, businesses, and major events to the city...he must realize that (allegedly) inviting strippers to the Mayor's mansion and lying under oath will overshadow anything positive that he has done for the city of Detroit. Let's not be naive and pretend that he hasn't been under the microscope since he was elected years ago. He wasn't "supposed" to get that position in the first place. We got to do better!

If you are unfamiliar with the case/scandal Click
here
for a timeline leading up to the trial against the Mayor.