Okay....so I think it's been established that I'm a broke college student w. bills [lol] SO, it's a very RARE occurence that I am able to go on shopping sprees at the Mac counter...I have to make do w/ what I've got and what I can afford! =) So here's a look at a few things I picked up yesterday....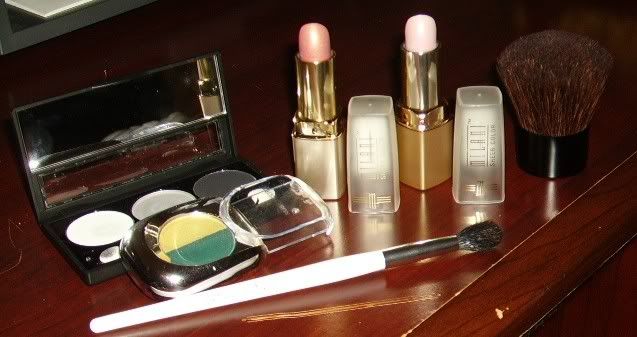 NYX e/s trio (white/grrey/black)
Ruby Kisses e/s duo (Fantasy Island)
Milani Lipstick (Pink Chiffon & Dolce Vita)
Studio Tools Bronzer Brush
Sonia Kashuk Blending Brush

I needed the NYX trio b/c I didn't have a matte black shadow...instead of spending 14 bux on ? ONE at Mac...i figured why not get 3 shadows for a fraction of the price =)...Now the Ruby Kisses shadow [lol] has little to barely any pigmentation..it was just cheap at my local beauty supply and I liked the colors..but they don't show up...you get what you pay for, right? Surprisingly I love both brushes...i was able to play with both last night when I did my FOTD (see last entry)....I already knew to expect great things from the Sonia Kashuk brush b/c of all the rave reviews I've read. The Studio Tools brush is realllyyy soft....I'll update after I wash it for the first time to see if it sheds or if the bristles get prickly.

It's good for now, though! ***EDIT***the studio tools bronzer/kabuki brush SUCKS. >:-[ It was soft to touch but too rough on my face...it turned me red! I don't even have any high end makeup brushes but I know enough to know that this won't cut it! to the trash it goes....