For some reason I am just deathly tired today! As much as I love makeup can you believe I didn't put a thing on today!? Nothing at all except my carmex!

Okay....Am I the only one addicted to these little tubes of
crack
we call carmex? Oh my goodness! I can't go without it! I put it on before bed, and in between lip gloss touch ups....so many times during the day I can't count!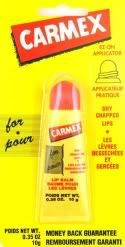 It's just so amazing to me how soft my lips feel with carmex. I've tried to ween myself off of this stuff time and time again, but it doesn't work. When I exfoliate my lips (gently brush them with my toothbrush) I pile this stuff on and my lips are SO soft when I wake up. It's pretty great! I know you're probably thinking I'm crazy but seriously its like I have OCD or something. I have to have it [lol].
Okay enuff of that.....when I get off work I'll be uploading some pics of the stuff I own that thsoe close to me call junk!
Stay tuned! :)