Oh my goodness....
I can't believe I actually have a FOTD! [lol]
Of course, its not great...i can't take a decent makeup photo with my digi cam, so I took these with my phone and you can't see all of the detail, but I think you all will get the picture.
It's so weird because I DO NOT do blue eyeshadow...it's so ...80s to me! So, I tried it for the firsttime and I just couldn't wait until tomorrow to post the pics because it [surprisingly] came out pretty. I'm pissed that you guys can't see the detail...I even think I did an -Ok- job blending. Oh yeah Disregard the beret [lol] I love it, but I don't wear it TOO much cuz my boyfriend hates it so much lol. But its pretty KEEWWWAALLL to me!

Okay so here goes nothin!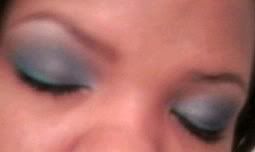 Okay so you can't see the detail but...o well for the moment right?
AArrrgghh. It irritates me cuz it was Bee-E-A-YOU-tee-Ful...for my skill level anyways!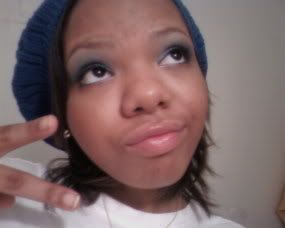 Naturally I have to have a silly pic! *teehee*
What I used

Cover Girl True Blend Loose Powder w/ Minerals in translucent honey
Loreal True Match liquid Found. in N7
Maybelline Volume Express Mascara
Estee Lauder dual ended e/s & e/l in Double Denim
Wet N' Wild Cream Shadow in Toasted Almond as base
Wet N' Wild Silk Finish Blush in Mellow Wine (very Little)
Unknown eye shadow...frosty white color used as highlight
Jordana e/l in Turquoise
Jesse's Girl Eye Dush (like a pigment) in a deep greenish/blue color
Wild & Crazy e/s in Bahama Water
I'm proud of myself! yyayy! lol
Til' my next post....Kisses!